1942-1974
1942-1974
1942-1974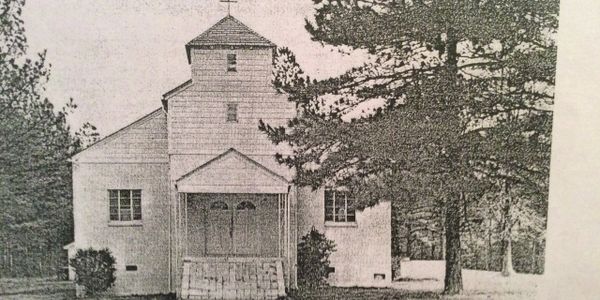 Community Baptist Church through prayer meetings and a Sunday school organized to become a church had its beginning as most early Baptist churches. Christians worshipped in prayer meetings held at various homes in the community. Eventually several families decided to organize a Sunday school and through this effort a desire to organize a church became eminent. Land was donated by the W. G. Speight Family for the first structure. Under the leadership of Reverend H. J. Singleton, the first pastor with the Reverend M. E. Jones, assisting, the structure was erected. Reverend H.J. Singleton was the pastor from 1942-1944.

Families instrumental in the organizing of the church and are considered Charter Members were: The Theodore Speight Family, The Sam D. Dillard Family, The George A. Johnson Family, The Vance Lennon Family, The Percy Little Family, The Fannie Lambert Family, and The Robert Jones Family.

In 1944, the Rev. J. A. Brown was unanimously called in June to pastor the Church. Under his leadership various auxiliaries were organized. The Sunday school grew in membership and church services were held twice a month.

In April 1947, Reverend Edgar Thompson became the third Pastor. Under his leadership, church services were changed from twice a month to three times a month, and eventually to every Sunday. During his pastorate, several additional auxiliaries were formed and the membership continued to grow. Community Baptist Church, since its beginnings, has been a supporter of the New Hope Association, General Baptist State Convention, North Carolina, Inc., Women's Home and Foreign Missionary Convention of North Carolina, Lott Carey Foreign Mission Convention, NAACP, Shaw University, Shaw Divinity School and The Children Home in Oxford, North Carolina and many other community organizations. In 1954, the church purchased land a new edifice was begun and completed in 1956.

During the era three persons were called to the ministry; Brother Clyde Johnson in 1958, Brother Ira Murchison, May 1968 (deceased), Sister Pattie Walker, May 1969 (deceased). In 1973 the Rev. Tally B. Mosby joined this church and served as Associate Minister until his death. In August 1974, Groundbreaking Ceremonies were held at the Church and the present edifice was completed in September 1975. The church was entered for worship in October 1975.

Jethro Ashford, Sam Dillard, James Edge, Theodore Speight, Daniel Stewart, Julious Wilson and Roosevelt Hayes served as Deacons at that time. Annie Ashford, Patti Austin, Geneva Dillard, Myrtle Edge, Belle Hayes, Edna Hodges, Patti M. Johnson, Willie McCormick, Johnnie-Ann Smith and Mary Speight were Deaconesses at that time.

In 1977, Reverend Edgar Thompson retired having served faithfully for 30 years.